Learning and Magic collide, producing laughter, illusion and fun, when you join Bill Gormont for his program The Treasure of Book Island.   Let your school or library join magical pirate Captain Bill aboard his ghost ship the Black Oyster, as he sets sail for Book Island. A swashbuckling adventure of uncharted magic and reading on the high seas is blended into a family entertainment experience of laughter, excitement and surprise.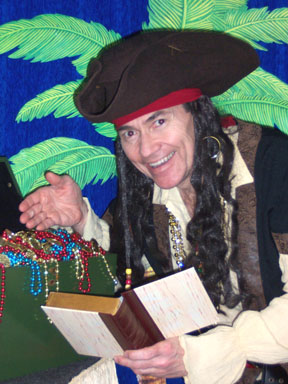 Photo Credit: Creative Image, Rochester, NY 
Captain Bill recruits land-lubbers from the audience as pirate apprentices. Some dress up as young pirates, galley cooks, beach combers and more. These special times become a true "Kodak Moment" as mom and dad have a chance to take that perfect picture for the family album.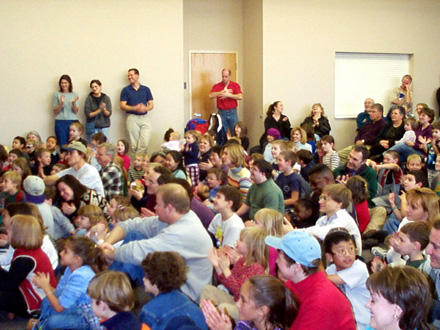 Photo Credit: Creative Image, Rochester, NY 
On our adventure, pirate's loot magically changes into valuable jewelry and you'll see "Blackbeard's Plank", the legendary board that failed to send Blackbeard to his watery grave. A pirate's apprentice will experience the magic still within this famous piece of wood. All this and much more defies the laws of science, all in the course of a program containing humor, amazing illusion, and a wonderful sense that this pirate magic just might be real! 
To close the show, Captain Bill and some treasure hunters from the audience magically discover an old map that leads them to a treasure chest hidden on Book Island many years before. Legend says the chest contains a valuable treasure. Is it gold, silver, diamonds, pearls or money? The visitors to the island are the only ones who can discover the secret.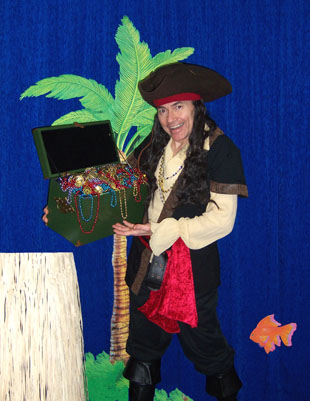 Photo Credit: Creative Image, Rochester, NY 
Captain Bill's magic is a wonderful form of entertainment with a reading message for children, teens and adults. Everyone enjoys the action, skits, comedy and fun as they are WOWed by the illusions and impossible things that happen right before their eyes. 
Deluxe show package options includes professional backdrops and a powerful sound system suitable for auditoriums, gymnasiums or medium to large multipurpose rooms. 
Bill Gormont's unique brand of magic provides that "special touch" to help make the next reading event at your school or library a huge success.