The Complete Juggler 
by Dave Finnigan 
All the Steps from Beginner to Professional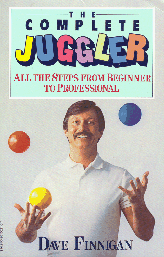 This is truly the complete book of juggling. It offers step-by-step instructions from a man who has successfully taught some 350,000 people to juggle. You will learn how to do everything from the basic three ball juggling to the proper use of devil sticks, diabolos, rings, spinning plates and more. Juggling is good for you, as doctors, teachers and physical education departments are discovering. It relaxes you, improves hand-eye coordination and keeps you in condition. 
Dave Finnigan begins by teaching you the basic juggling patterns using slow moving nylon scarves, the easiest of all objects to juggle. This text is loaded with illustrations that clearly show proper hand and object orientation for successful juggling.  
Check out the featured chapters . . . 
Scarf Juggling

 

The Basic Cascade (Learning to juggle balls with 1, 2 then 3 balls)

 

Advanced 3 Ball Juggling

 

Juggling 4 and 5 Balls

 

Juggling Rings

Juggling 3 Clubs

Juggling 4 and 5 Clubs

Cigar Boxes

Devil Sticks

Diabolo

Hat Manipulation

Plate Spinning

Ball Spinning

Balance and Auxiliary Equipment

Performing (Guidelines from the Greats)
Each Chapter progresses logically through lessons of increasing difficulty. In addition, there are suggestions on how to develop your own juggling act and make money juggling, a collection of juggling games two or more can play, a lively history of the art and a list of the Achievement Awards of the International Juggler's Association and how to qualify for them. 
The Complete Juggler, 574 pages, 5 1/8 inches x 7 7/8 inches, softbound. 
$20.00 U.S.
---